Parents if you have a student that attends Gordon Cooper, they will be hosting a Parents Night tomorrow from 5 pm to 8 pm at all campuses.
5th Quarter at Calvary Way Church after the game Friday night till Midnight. Nacho Bar, Basketball and Volleyball

Parents if you have a student that is in athletics, the Sex at Birth affidavit is on Rank One. This is a form required by the OSSAA for all athletes. If you have yet to sign one, please do so as soon as possible.

Attention High School parents: Please login to your Parent Portal as soon as possible to complete the annual forms and review of enrollment data. This school year, you will receive email notifications regarding attendance, eligibility, and grade reports. The email will contain a link to your Parent Portal where the document can be retrieved and remains for 2 weeks. Eligibility and attendance letters will be processed every Monday beginning the fourth week of each semester. If you need help with your Parent Portal, call the office.
HS Parents: Please login to your Parent Portal at
https://ok.wengage.com/prague
Verify your demographic information and complete the annual forms for your student. NEW for 2023: Instead of mailed copies, you will receive email notifications for Attendance letters, Eligibility Letters, and Progress Reports/Report Cards. You must be able to access your Parent Portal to retrieve these notifications. If you have any questions, please call the office, 567-2281 ext. 2001. Instructions, click here:
https://www.high.prague.k12.ok.us/o/phs/page/enrollment

Attention Senior and Sophomore parents: Jostens will be here Thursday, August 25th 9:30 - Senior graduation product presentation/cap & gown 10:00 - Sophomore (or above)-class ring presentation Extra packets will be available in the office. They will return for orders on Monday, Aug 29.
Parents: Synco will be here August 26th from 9-?? to order letterjackets for students in grades 10-12 that have lettered in athletics . Students who are in band may order at this time this includes freshman. $100 deposit is required at the time of order, this will be applied to the total cost of the jacket. Students need to sign up in the office and pick up a letter jacket order form. Only check, cask or money order will be accepted. THIS IS THE ONLY TIME JACKETS WILL BE ORDERED. If you have any questions you contact Mrs. Little or email her at
flittle@prague.k12.ok.us
Prague Fast Pitch Tournament August 18th-20th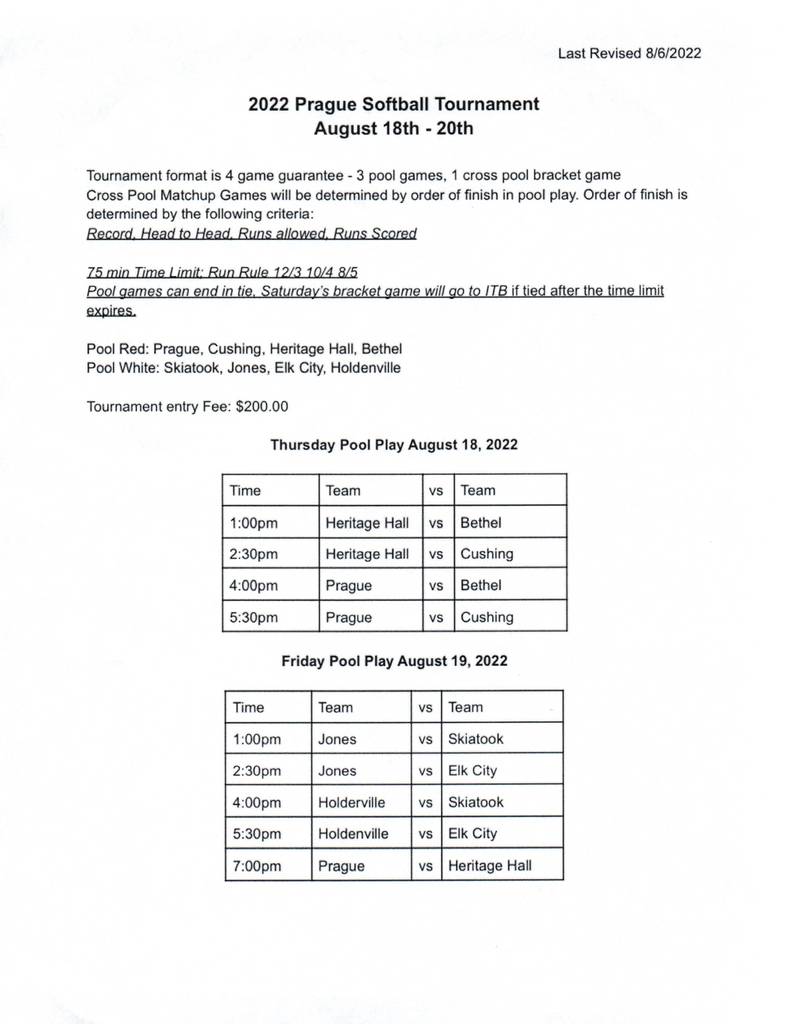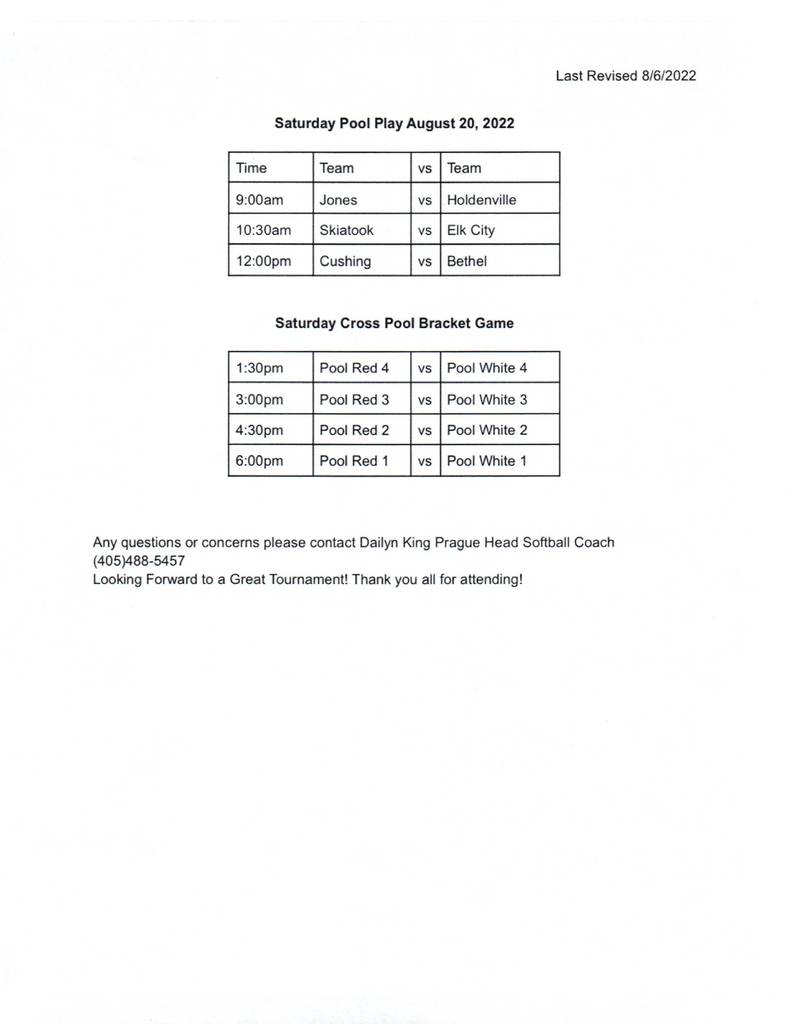 Parents: if you have students that are in athletics, band, or cheer, please make sure all the paperwork required is signed on Rank One as soon as possible. The Sex at Birth Affidavit a new form required by the OSSAA is now on Rank One to be filled out.
Parents, on Rank One if you see your student has gone from Eligible to Ineligible, don't panic, we are in the process of uploading the Biological Sex Affidavit for athletes, which is another form required for by the OSSAA. Once it becomes available I will let you know, if you have already turned in a paper form, I will manually check the form off for you student. If you have any questions you may contact Felicia Little at 567-2281 ext. 2023 or AD Rafe Watkins at 567-2281 ext. 2027.
Parents, please be sure if your student is in any extra curricular activity that they have all the necessary paperwork signed on Rank One. Those in athletics or band require all paperwork on Rank One to be signed or they will not be eligible to practice.. FFA, Speech, etc..., must have a Drug Test Consent form signed on Rank One before they can compete. Physicals are being uploaded as they are being received.

Attention HS drivers!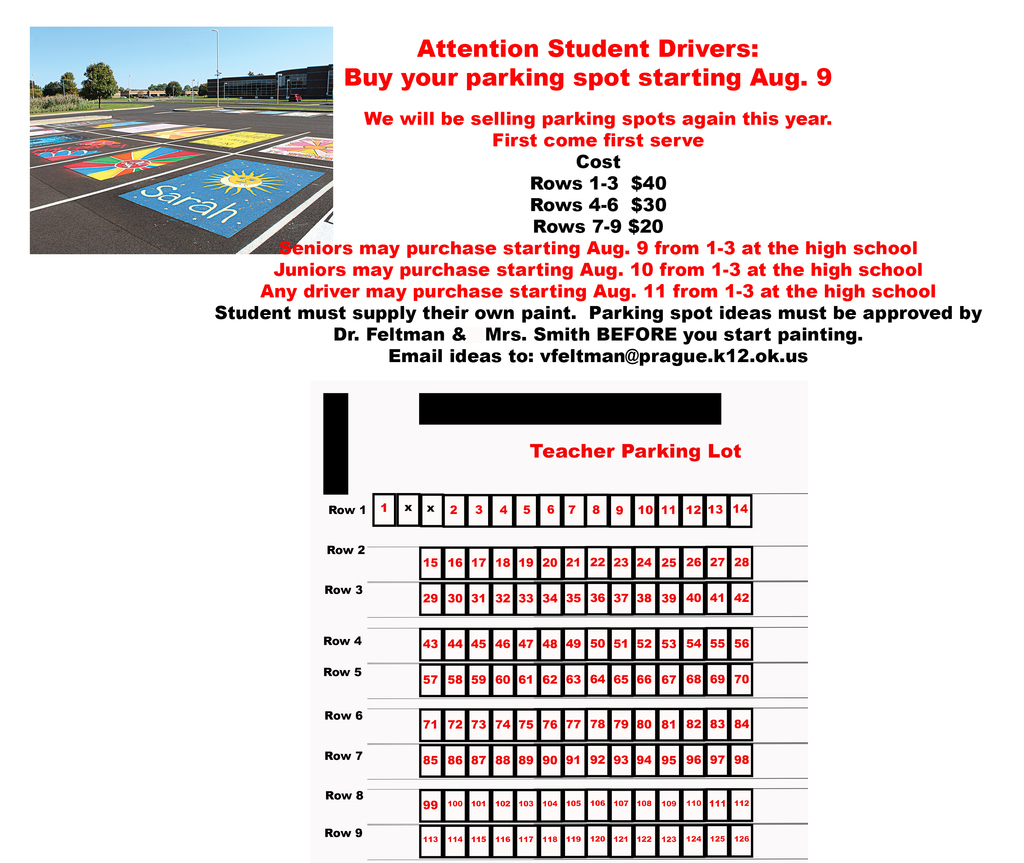 Attention HS students!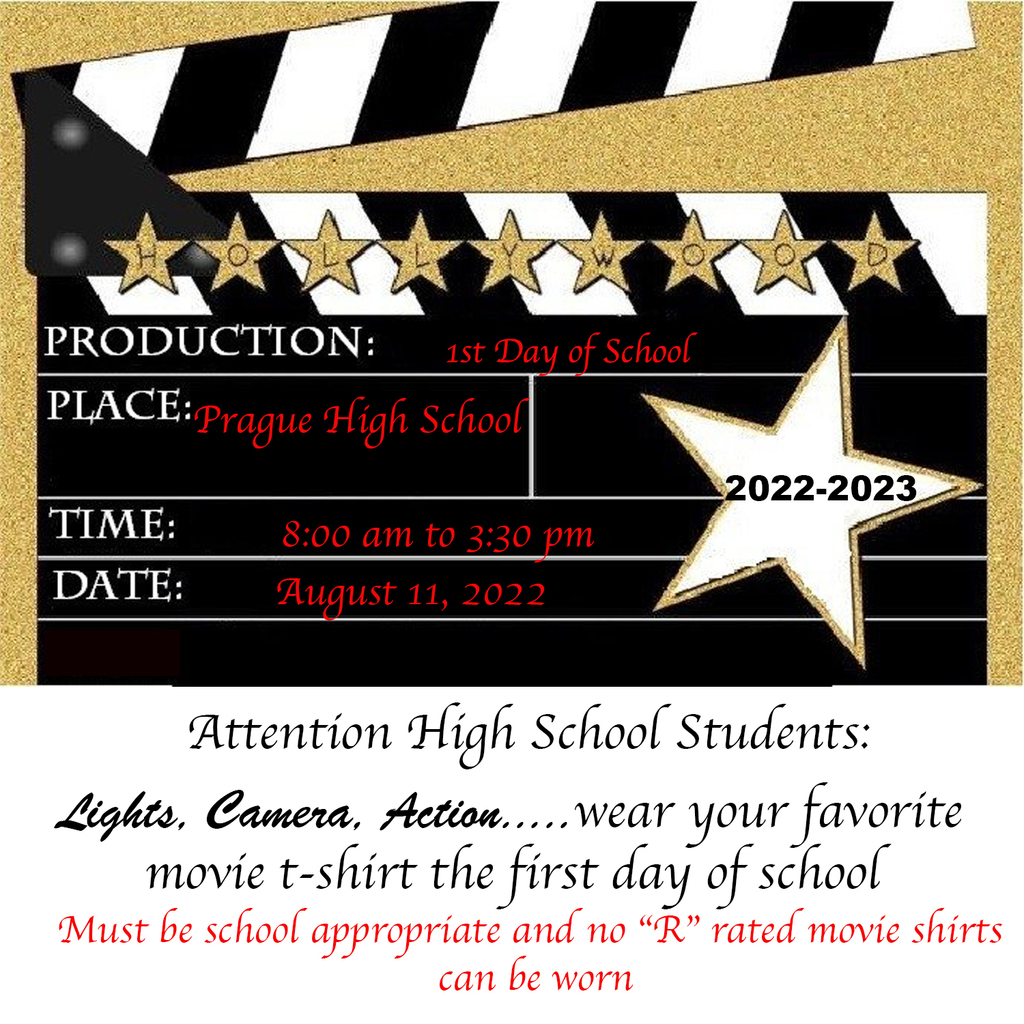 Tom Flora Photography is offering this service. 405-273-8631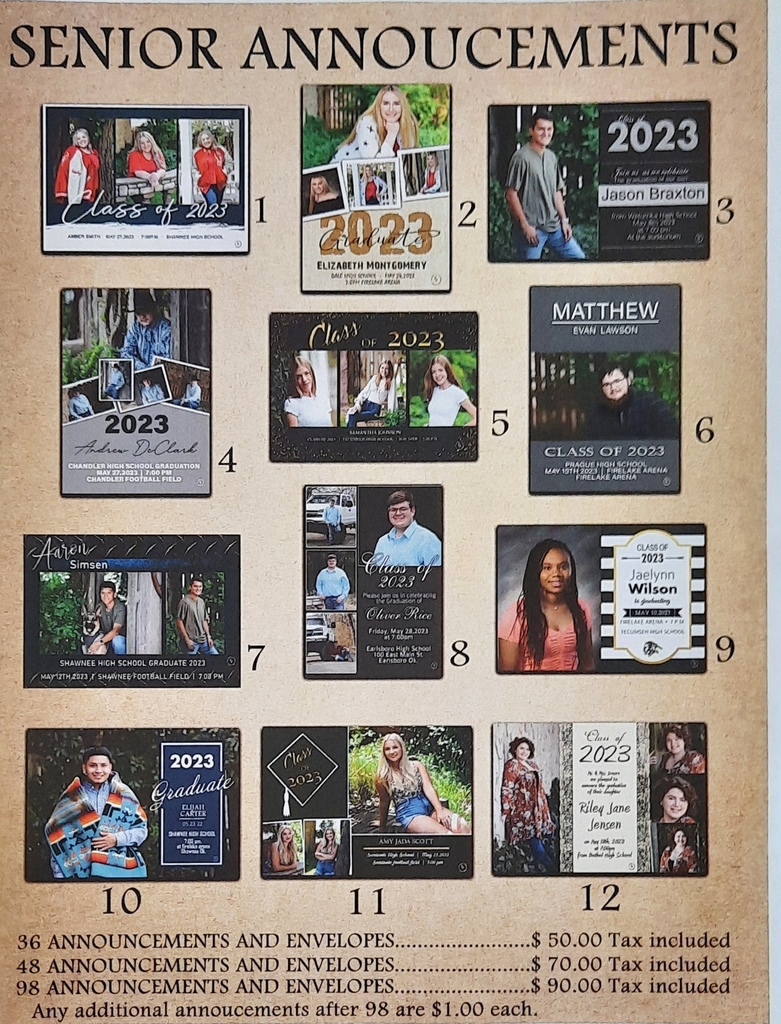 HS Parents: Please complete the online enrollment for your HS student. Prior to schedule pickup: Complete a Lunch Application (online preferred) and Laptop Form Where to start: HS website, MENU, Enrollment, Current Students Questions: email
rdean@prague.k12.ok.us
or call 567-2281, ext. 2001 Paper copies are available in the HS office, on the table outside the HS main entrance, or printed from the website "Documents" button.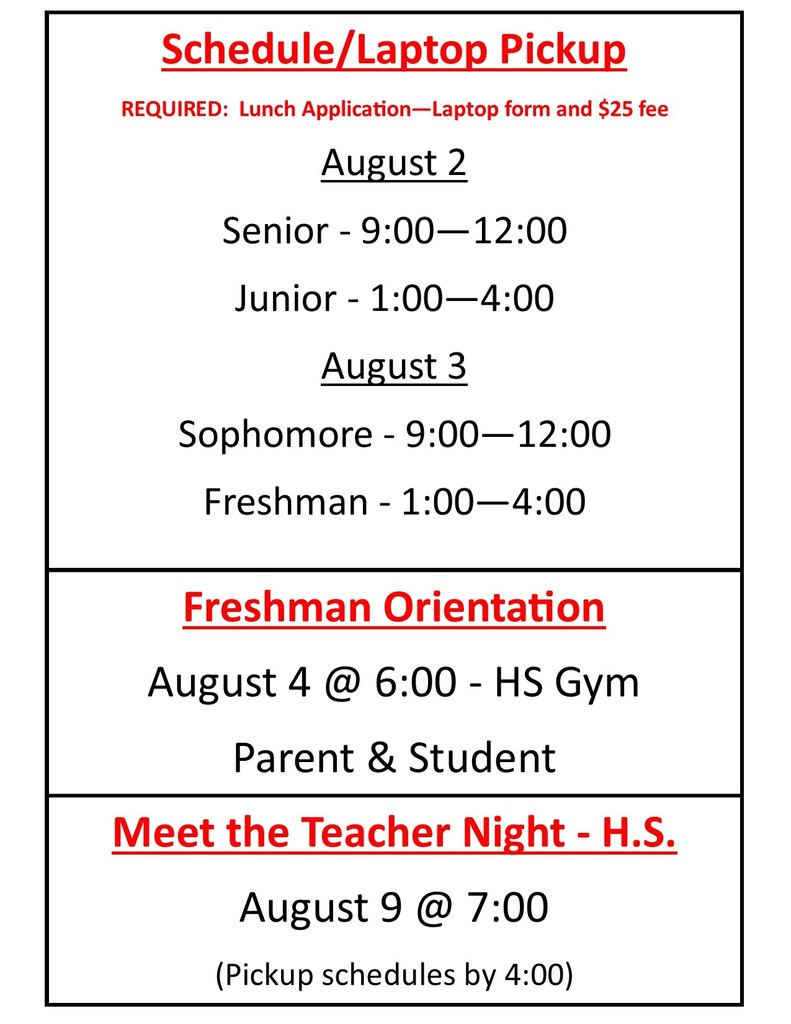 ATTENTION SENIORS: SENIOR PANEL PICTURES ARE AUGUST 2 FROM 9-3 IN THE BREAK ROOM AT THE HIGH SCHOOL. Seniors must follow dress code, no facial piercings. Girls, please wear a nice dress or top and skirt. Boas will be available if you want to use one of those. Boys, please wear a shirt, tie and coat. If you do not have one, Tom Flora will have a few. Please bring your own collared shirt. No appointment needed, just show up between 9 and 3. This will be the picture that will be on the panel and in the yearbook. Proofs will be sent to pick from.

The HS Office will be closed the week of June 13-17.

Attention 2022 Seniors: Diplomas/transcripts can be picked up at the HS office M-TH 8:00-4:00. The office will be closed the week of June 13-17. Don't forget, you must pay any outstanding fee/fines or return the item. NHS members: Please return your white NHS stole.
Parents just a reminder that the boys physicals will be Tuesday, May 31 from 4-5:30 at the Community Center. Also if you can not or could not attend either of the physical dates at the school and you are involved in school sports during the summer you need to get your physical turned in ASAP as the old physicals will expire soon. This is the only physicals dates offered by the school. After Tuesday all physicals must be turned into the High School office hours are 8-4 Monday-Thursday, closed Fridays.